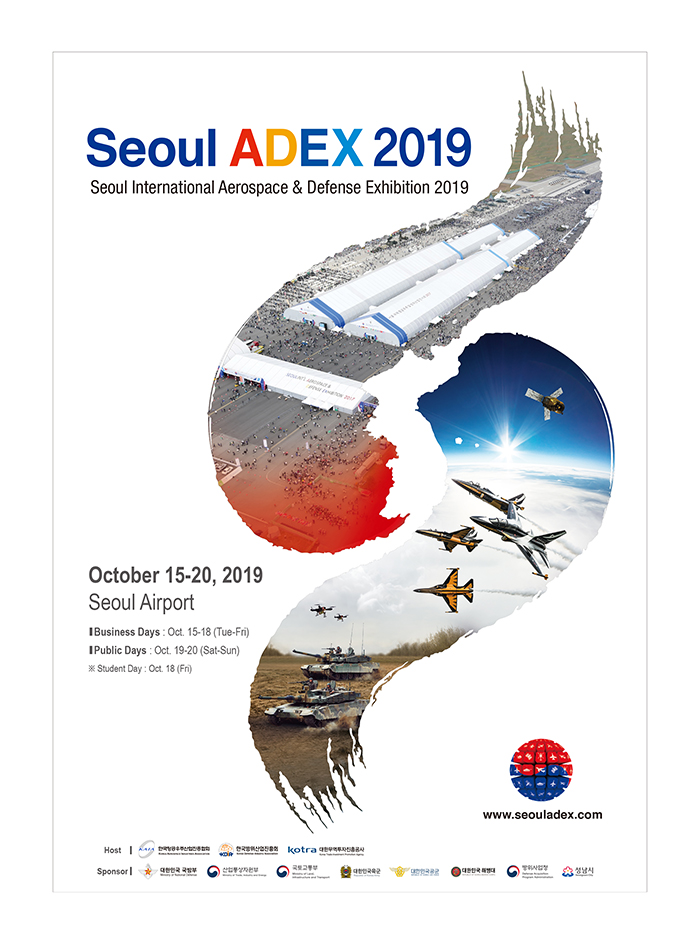 http://www.seouladex.com/en/visitor/index.asp​
Business Days
Date : October 15 ~ 18, 2019
Time : 09:30~17:00
※ On October 15th , due to the Opening Ceremony, visitors can enter the exhibition site from 13:00​
Notice for admission
- Trade visitors who do not have Official Invitation Card have to purchase ticket.
- In case trade visitors do not register on-line in advance, they have to register at the onsite registration desk to get trade visitor badge.
- Trade visitor badges are not issued in advance and trade visitors who register on-line can collect their badges at the registration center, which is located between the exhibitor parking lot and main enterance.
- During Business Days (Oct. 15th~18th), only trade visitors will be allowed to enter the exhibition site. Children and youth under 19 will be restricted to enter the exhibition site(Oct. 18th, Student Day is exception.)
- Visitors who are interested in Public Days (Oct. 19th~20th ), they have to purchase Public Days ticket. Please look over Public Visitors Website.
Prohibited and Restricted Items in Exhibition Area
- Weapons or items which may be used as weapons
Guns & firearms, toys, toy weapons(if not realistic replicas), swords, martial arts, explosive materials, ammunition, flammable liquid, compressed gas cylinders, shocking devices, stun guns, darts, realistic replicas of incendiaries, bullets, throwing stars, blasting caps, etc.
- Flammable or explosive items that may cause serious injury
Explosive materials, ammunition, fireworks, flares(in any form), lighter fluid(quantity restrictions), lighter(quantity restrictions), liquefied petroleum gas(butane gas), aerosol(any except for personal care or toiletries in limited quantities), disabling chemicals, flammable items, poisons, etc.
Items which are expected to be hazardous & other restricted items
: Drones, Wireless-controlled toys (R/C cars, Airplanes, etc), Kickboards, Power wheels, Pets, alcoholic liquors, gun lighters, batteries, toy transformer guns (decomposition required), hair spray, swiss army knives, razor-type blades, nail clippers, etc.
We are performing X-ray investigation to ensure all of your safety during exhibition. We appreciate your cooperation and understanding in advance.
[Disconted Ticket]
*It will be sold on October 7th with normal fare.
Business Day (October 15th ~ 18th)
Adults KRW28,000 / Online Early Booking (September 16th ~ October 6th) or Group (More than 30) KRW23,000
Public Day (October 19th ~ 20th)
Adults KRW13,000/ Online Early Booking (09.16 ~ 10.6) or Group (More than 30) KRW11,000
Students KRW 9,000 / Online Early Booking (09.16 ~ 10.6) or Group (More than 30) KRW7,000
Etc(Onstie sale) : RW9,000원
* Etc. (Onsite Sale) : Seniors (Ages 65 and above), Disabled people, Men of National Merit, Men of National Basic Livelihood Security beneficiary
* Free Ticket : Preschool Child. (Born after JAN 1st, 2013)
* In case of etc. or free ticket, you need to prove it. (Soldier on service needs to wear military uniform for free pass.)
*During Business Days, children and youth under 19 will be restricted to enter the exhibition site.
*Except on Student Day : October 18th